Discovering The World Of Pole And Aerial Fitness Was Sheer Coincidence.
It was the summer of 2012 when I met up with a friend of mine for lunch in Chelsea just before I was to take a cooking class at a nearby culinary school. A woman in my cooking class happened to overhear us discussing our curiosity of pole dancing fitness when she pointed us in the direction of a nearby studio, Body and Pole. She raved about how addicting her pole classes were and exclaimed enthusiastically how she visits the studio at least four days a week, "I f*ckin' love it," she bellowed. I jotted the name of the studio down once I got inside to the cooking class and began my research immediately.
Cirque du Pole
I found that the studio was only two blocks away from where I usually take my cooking classes. Body and Pole, located in the section of Chelsea just below Midtown Manhattan, offers a wide range of pole classes from first timers and beginners to advanced level 5 pole classes, or better known as "Cirque du Pole." They also offer flexibility classes, hoop/lyra, aerial silks, ballet barre and aerial yoga classes. There is another studio called OM Factory in Union Square, not too far from the previous studio that just offers silks and aerial yoga classes. I live on the eastern end of Long Island in New York and it is unfortunate how they do not offer any aerial or pole classes nearby. The closest aerial fitness studio is forty-five minutes from my house and has a select number of classes that does not coincide with my schedule of being an English as a Second language teacher and tutor. I choose to go the studio in Chelsea because of the convenience of their location and the wide variety of classes they offered. I was also impressed by the friendliness and professionalism of the instructors.
I took gymnastics for about five years, from when I was five or six years old until I turned ten. I had wanted to continue with gymnastics but was unable to because our studio in town had closed (which later had reopened six years after). If I was not doing gymnastics, I was on the jungle gym set at school, home or at the park, where I always enjoyed doing "semi-daring" stunts and hanging upside down on a trapeze bar. By this past summer, it had been at least seven or eight years since I had done any stunts from handstands and cartwheels to hanging upside down, let alone backhand springs. Though when I entered my first pole and aerial classes, I really didn't have any fear at first, I thought to myself, "This does not seem so hard."
Was I Mistaken!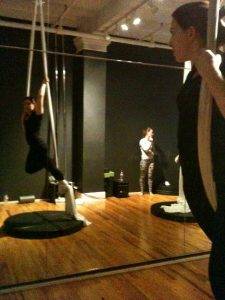 As an avid indoor cycler and weight lifter in addition to holding teaching certifications for both I first started with a first timers pole class. After a thorough fifteen minute warm up, we first focused on walking around the pole, turns and twists near the pole, sliding down the side of the pole and then onto spins and side pull-ups on the pole. I couldn't even do one spin, I kept trying to grip the pole with my entire body rather than just locking my inner knee around the pole. I must have grown very nervous because my hands started to sweat profusely. I couldn't at this point grip the pole let alone pull my entire body weight up onto the side of the pole.
My instructor suggested a gripping aid, such as gloves or an antiperspirant hand lotion called Tight Grip, which worked exceptionally well for me for both pole and aerial. It kept my hands perfectly dry for hours and I never had to use rosin for silks, which makes me sneeze, and chalk for hoop. All in all, pole took the most amount of time to get acquainted with. I feel that most of what I had to overcome was my fear and nervousness around the pole. It could become intimidating watching the other students go at it like masters and or seemingly no fear. Taking it step by step and focusing on yourself and your own progress without watching everyone else for me is the first step to success on the pole.disciplines, I never realized how pole and aerial fitness would challenge me and boost my performance higher than ever expected. In addition to practicing Ashtanga and Vinyasa yoga on a regular basis, I was not nearly prepared for the strenuous workout that pole and aerial would bring forth. I thought I was strong enough, but I was nowhere near as strong and flexible as the women and men that took the aerial and pole classes with me.
After Pole, About A Month Later When I Was In The City Again, I Tried Hoop And Silks.
I was only able to sign up for the beginners classes rather than the first timers only because my schedule could not fit in the first timers for that entire month plus I had a class package that was about to expire. I did Aerial Silks and Hoop back to back. I never thought in my wildest imagination that each class would be so challenging. It was a true test of strength and flexibility. After stretching with the silks, we were taught how to do foot wraps and inversions. I was only able to invert myself once and had difficulty get used to the twists involved with wrapping your feet while simultaneously twisting through the silks. Climbing the silks was also very challenging. I was able to climb with my right foot first but I was completely spent when I came to my left foot. By the time our hour and fifteen minute class was over, I was so tired I didn't know how I would be able to do the hoop class.
At first I felt that the hoop class was harder despite being told that it would be considerably easier than silks. It was most likely due to feeling fatigued after aerial silks. For the hoop class, after doing some basic stretches for fifteen minutes like we did for silks, we practiced coming onto the hoop by hooking the back of our knees onto the bottom portion then swinging up to grab either side of the hoop. I was so tired the instructor had to help push me up most of the time. I felt like a ton of lead. I never realized how exhausted I was until the next day when my arm, shoulder and back muscles hurt more than any other workout I had ever done before. I couldn't even lift my arms over my head without extreme aches and discomfort. Even though I was working out five to six days a week for one to two hours doing weights, cardio and flexibility classes, my body was not prepared for that type of workout.
I Did, However, Enjoy My Aerial And Pole Classes Very Much.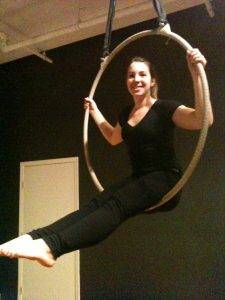 I came back to do a first timers hoop classes and beginner aerial class a week before the holidays this past December of 2012. I felt less nervous and considerably more confident, especially with the hoop class. When you are participating in a class that is at your level, you feel more comfortable and much less uncertain compared to if you were taking a class that was not appropriate for your experience level. At first I wanted to jump right into it thinking it wouldn't be too difficult, but that was not so. Once you feel that you have mastered the skills at the basic, you are then ready to advance to the next level. I learned more advanced wrapping techniques, stretching and inversion poses in the aerial classes and in the hoop class, I was able to hang upside down and pull myself up to sit on the hoop without difficulty. I felt amazing and loved every minute of class. I now cannot wait to go back in late January.
For now, I must remember I must work at my own pace and not compare my ability to students that have been taking dance, aerial and pole classes consistently for months or even years. By now I have only taken eight classes in total and have much more room to grow. It is also very true how both aerial and pole classes coincide with one another with each skill leaning against and helping to develop another. Mastering lyra, silks and pole someday is my ultimate goal, as it now turns into a serious hobby (or positive addiction). I must say I cannot stop taking these amazing classes and continue to look forward to the challenging and exciting classes ahead.
Onward and upward for now!