How Do You Get In The Pole Zone?
Is it a particular Warm Up?
Is it a special Song?
Do you have a Signature Move that makes you feel fab?
A student's first foray into the Pole world can be daunting, they may well be nervous for many reasons; not least, the standard prejudices linking this form of exercise to a sleazy club could be flying around in their heads despite their better judgement and all the explanations we, as instructors or students, may try to give.
Most of us have been in that place, taking that first step, some of us standing in the doorway wondering just how we managed to find ourselves outside a Pole Fitness/Dancing class.
After a few classes, it does, of course, get easier but for those of us without a dance or fitness background; it can take a long time to feel comfortable with the sense of vulnerability that comes from being on a pole, one person at a time. Sometimes, the mind is willing but the flesh is weak; body issues and one's own history all play a part in whether a student can let go enough to really learn, even the basic, moves.
The best instructors can help a student to work at their own level and bring out their strengths regardless of the starting point of their ability, flexibility and fitness levels but with many and varied personalities in each class, is there an easier way?
For me, it's simple; I've often had to tap into my Alter Ego, Princess K, to get me through those times when I'm stepping out of my comfort zone. My Alter Ego will always try what I won't, do what I can't; she's not as self-conscious, not as worried about what people think. She's the braver version of Me!
I think it's the same for a lot of us. Some of us have often made the most of that inner, more confident version of ourselves.
For others, it's a new concept but it is a useful one!
I encourage students to start thinking about who they might want their Alter Ego personality to be, as soon as they begin coming regularly to classes. After a while, they seem to change as they walk in the room – nervousness is replaced with a 'Can Do' attitude and a ready willingness to have a go!
Unless Pole Fitness/Dancing is your day job, then you probably have to switch in and out of your Pole life. By day, you may be working in an office, serving at tables, teaching in schools; but then the night-time comes around and you're someone that your day-time colleagues may barely recognise.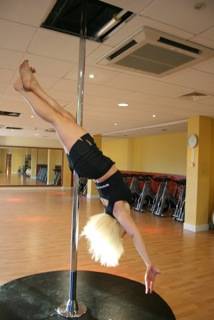 As you shimmy round the pole, body waving your sassy socks off – regardless of whether you're learning Pole Fitness or Pole Dancing, I defy you to say that you aren't connecting with your more confident, saucier self. She's the one who could learn to perform, possibly even compete; she's the one who really wants to feel good about herself; she's the one who is strong and she knows it – she's proud of all that, and she's not afraid to say so either.
Once you've attended enough classes to achieve those pesky Inverts – a must once you're hooked – then something changes; you do feel empowered and your Alter Ego can raise her head during your day-time hours on occasion – I've seen it happen. Students sometimes get their sassy pants on, way before class starts!
For all the controversy about whether Pole Fitness/Dancing is positive, or detrimental, for women's liberation and the many other arguments about it; one thing I know personally, is that I have certainly found an inner strength since I started to learn this fabulous form of exercise!
Wouldn't it be great if your Alter Ego was fully in charge sometimes though, what else could you achieve if you thought you couldn't fail!
What's your Alter Ego called?