Hi. My name is Michelle and I'm a pole addict.
I wasn't always addicted to pole. I started poling around 20 weeks ago and within the first hour I was hopelessly in love!
In The Beginning
In the beginning there was martial arts, and mountain biking, and yoga, and Zumba, and swimming, and running, and hiking….I describe myself as a bit of a fitness magpie – I love collecting fitness stories and trying new things.
I haven't always been super active. About 3 years ago I weighed over 200Ibs, so this new awakening is thrilling.
Anyway, What's My Point?
Well, although I loved to try new things I was by no means a dancer and I was terrified of the idea of going to try out a local Pole Fitness class. It took me over a year to pluck up the courage to book myself in. Why did I do it? Because I realised that you can't spend your life not doing the things you most want to try just because you're bridled by fear.
The First Lesson
The first lesson was duly terrifying. I didn't know whether to wear hotpants (and expose my flab) or whether to go with my usual running shorts. I went with the 3/4 capris that cover most of the offending cellulite. We did some spins and I attempted to lift my weight off of the floor – thanks to a year of weight training that bit wasn't too embarrassing and before I knew it I was trying some of the more "advanced" stuff that a couple of girls who'd been going for a few weeks were trying! (get me). It was thrilling, it was comfortable and it was a fit. I was hooked.
I spent the next week doing the zombie-grab, unable to extend my arms on account of the ACHE. Gym sessions were interesting and the bruises raised a few questions. But all week I was just waiting for my next hour of pole.
Week 2 I was put back on a pole with my buddy Tom and we started the process of climbs and sits. On account of the gym work, again, these were fairly simple and posed no real problems for us.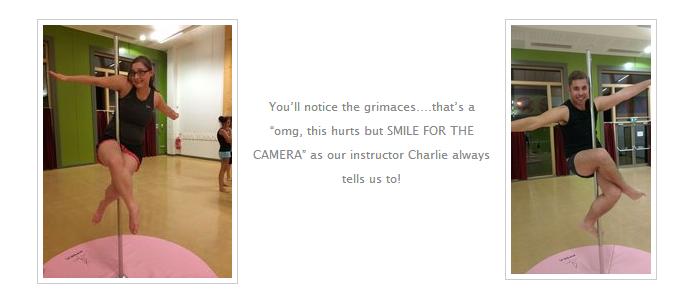 As the weeks progressed, so did the sits. The photos below show a one-handed knee release onto a two handed knee release over the course of about 8 weeks.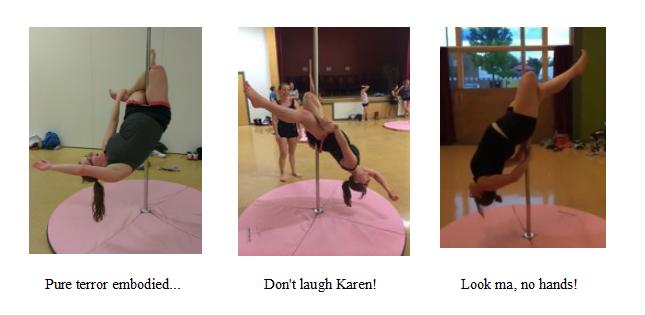 8 weeks. 8 weeks of training once a week, 8 weeks of getting progressively stronger, progressively more confident on the pole and 8 weeks of flexibility on the pole (I started quite flexible, but bending yourself around a pole is another matter!).
After the sits, we worked on increasing our spins. Again, you can see progression happening in our video clips.
About 8 weeks in we started inverting. O. M. G.
The whole game changed – but that's another article! Inversions were hard for me at first, I picked up the bad habit of kicking up – which I'm now trying to undo! But with steady practise and a healthy dose of confidence the inversion itself causes no issues. It's just when your instructor gets that gleam in their eye that means they want you to take ANOTHER limb off of the pole!
So, Where Am I Now?
I'm at 20 weeks in. This week I captured (certainly not perfected) 3 moves: Marley, Gemini, Goldrush, Geneva and an inverted fly-hold. All inverts, all with varying degrees of limbs on the pole!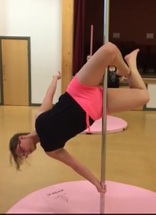 My instructors have been amazing, gently allowing me to realise that I CAN do this and that there is so much out there to be discovered.
What Have I Discovered?
I've discovered that I'm strong. That I'm braver than I ever thought I was. That I can ignore that fat feeling and get on with it just for the love of doing it.
I've discovered new places to bruise, new ways to do core work, new things to be excited about.
Not only have I made new friends, but I've lost weight, I've gained confidence and I've gained a new love of making my body do things that I thought I would never get it to do.
Don't let fear bridle you, let passion release you – pole dance! 🙂