Good afternoon pole babies! Just a quick update blog this week as have been and still am super busy at the moment! But of course I still have time for my sexy people of PoleFreaks! 😀
Let's just say I can feel the pressure mounting up now as months turn into weeks leading up to the competition, I literally have a month now so need to knuckle down but it has been proven that I work better under pressure!
Any of my free time is being taken up with training and gathering ideas for my pole performance. I've been watching a lot of YouTube videos and have been 'googling' pole poses etc for inspiration!
I've got blocks of tricks planned out in my head as well as spin combos and choreography but it's just a case of putting it all together…! That's the hard part lol.
Pole Pics
Ahh yes I told you last week I was due to have a pole photo shoot! Well I went through with it and absolutely loved every second! It was a very long day as there was me and 11 other girls (and a boy) waiting to have their photo taken… And I must say… pole modelling isn't as easy as it looks! It was a demanding day both mentally and physically but I would do it again in a heartbeat!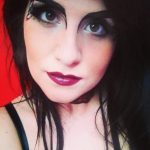 We are still waiting for the pics to be edited and sent back but will post up as soon as I have them! The pics on this blog are some I took myself showing my make-up and one of my outfits. We had a professional make-up artist come in to do the face and body art, the photographer was Claire Windy Winters – such a lovely lady to work with and very good at her job… check out her website here.
In other news, I have been thinking about the potential of making pole a career for me. Earlier today I went to see a lady about a personal training course as I know for certain my career is not going to be one sat in front of a computer screen! From there I was thinking about working free-lance and becoming a mobile fitness instructor and I could then possibly get my pole dance instructor qualification… the world is your oyster after all!
I get to witness the life of professional pole dancer first hand with Sally-Ann being a close friend, I can see just how demanding it is but also how rewarding it is. Her weekdays are filled with private and group classes and then her weekends are backed up with performances, judging gigs, photo shoots, master classes and charity do's.
I have to sit back and ask myself…Could I handle a life like that?
Hmmmmm… we'll see where the PT course takes me first.
Right, unfortunately I must dash… but before I go, here is another inspirational quote!
"The Body Will Achieve What The Mind Believes!"
Next week I will update in more detail about my routine, my fitness and my diet!
More pics to come also!
But for now folks, cheerio and keep on poling!
MWAH
XoxoxoxoxoxoxoX