Good Morning to all my fellow pole-crazy people, hope everyone is fairing well!
Well as that title states it is now officially 8 WEEKS until my FIRST EVER competition…AGGH!
It's gonna come round soo fast! – I'm trying my best to be as productive as possible – going to the gym and pole regularly and researching pole most evenings on my laptop for inspirations and move ideas!
I can confirm I have enrolled in the 'Intermediate' category of the Sally-Ann Heart and Soul Interschool competition… I have completed the application form, chosen my song and paid my fees so really is no going back now… I need to make our school proud!
Here's what I've been up to this past week…
Pole
As I said, I've been doing some 'pole revision'… After reading the guidelines of the competition very carefully – I've had to break down what I can and can't do… To be disqualified would be my WORST nightmare!
As I'm entering as 'Intermediate' there are going to be things that I can't do…for example…I can't do Aerial Inverts, Handsprings or Shoulder Mounts – now fair enough these are all moves that I am working on at the moment but I am no where near perfecting them… I would most definitely struggle in the advanced category. My main focus is going to be looking at the moves I enjoy the most and getting them looking SPOT-ON. Pointy toes and all.
My strength is most definitely improving, I'm working on my apprentice and extended butterfly and every week I am seeing improvements – It's getting that little bit easier to hold my body weight, just using my arms…and to be fair I am little lump! 🙂
I have been watching Sarah Scott videos – I think she is an amazing pole dancer, such an inspiration and definitely what I would envision as a 'Strong Woman'. She has so much power yet so much grace and beauty all at the same time. I don't particularly see myself as a pole power-house though – I do enjoy strength moves and man its satisfying when you nail them but I think I see myself as more of a 'show-woman'….Now my biggest inspiration is my pole dance tutor Sally-Ann, she is all about the sexiness and always strives to blow her audience away…not necessarily with the maddest tricks or the most flexible poses but with pure entertainment, the whole shebang. She always puts 150% into her performances and leaves everyone's jaw on the floor after the music has stopped playing…
Watch this video and you'll see EXACTLY what I mean…
If you managed to watch my video that I posted last week on the PoleFreaks Facebook page… A lot of my inspiration for that came from her videos and general style.
My Training
The Gym sessions are still in full-swing, attending classes on a regular basis throughout the week – I'm happy to say my level of fitness is improving (slowly but surely!)- I'm gonna need all the fitness I can ask for just to get me through 4 minutes of pole performance by the time of the pole comp!
I have built more muscle and toned up here and there – the circuit and boxercise classes are working wonders. Weight hasn't differed TOO much as I've lost fat but gained muscle – I'm still weighing around 128lbs – about 59kg.
A few girls at class have been asking me about fitness regimes and nutrition which of course I am happy to help with – I wouldn't say I'm an expert by anyone's standards but I kinda get the gist of maintaining a relatively healthy lifestyle.
My Diet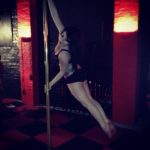 Not much to update you with as far as my diet is concerned – other than the fact I am going to try more fresh meat and veg meals this coming weekend…For example, Grilled Chicken and Veg – like green beans, carrots and broccoli. I'm going out for a meal Friday night with the boyfriend's family and my meal of choice at the place we are going to is usually Steak, so will probs have that (medium-rare) with salad (instead of chips!)… Good Abby!
I was naughty today though, I will confess! I had a chocolate bar! (Lion bar to be exact!) 🙂 Ahh well will have to work extra hard at pole tonight then!! Naughty Abby!
In Other News
It looks like I will be entering three competitions after all! Sally-Ann has released details for the Midland heat pole2pole and she will also be presenting an award for 'Free Style entertainer 2013'…Gonna pick up details for that one later on so will fill you in on that one next week!
I have also been looking for costume ideas for my first comp – as the song I'm dancing to is about 'not always being an angel' I have decided that I want to go for a slightly 'devilish' costume, so thinking red or dark colours – maybe some studs and killer heels thrown in too 😉 x watch this space!
Once again, I am ending todays blog with another motivational message:
"Strong People don't put others down…They lift them up!"
Remember that one peeps 😉
Thanks for reading and see you next time!
Big Kisses! XoxoxoxoxoxX